Prodrive Banbury retail park plans approved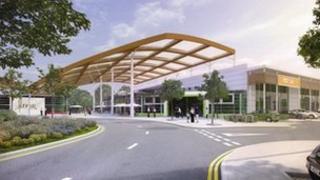 Plans to turn a motorsport company's Oxfordshire headquarters into a retail park have been approved by councillors.
Prodrive proposes building the shopping centre at Wildmere Industrial Estate in Banbury to help fund a move to its new base at the former Hella factory.
Plans for the shopping centre, called Banbury Gateway, had been recommended for refusal by officers.
The decision to give it the go-ahead has been called "bitterly disappointing" by town centre traders.
The retail park, which developers say could create 500 jobs, would host a number of well-known brands, including large M&S and Next stores.
The decision was criticised by Castle Quay Shopping Centre manager Paul Jackson who said retailers currently in the town centre would be "poached" by the new development.
"The effect on our town centre will be devastating and irreversible and we are shocked that councillors have listened to the arguments of just one employer over the voices of dozens of smaller businesses whose livelihoods will be so dramatically affected by this mad and bad decision."