London 2012: Olympic artists exhibit at Oxford gallery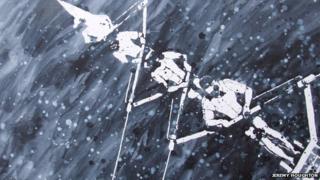 An exhibition which has paired leading artists with Team GB's Olympic and Paralympic athletes has been unveiled in Oxford.
The collection of sculptures, paintings and photography at the O3 Gallery aims to tell the story of the London 2012 Games.
Gallery manager Helen Statham said the body of work captures "the dedication and commitment of these elite athletes and the drama and passion of these historic sporting events".
It features works by 10 artists including painter Jeremy Houghton, sculptor Ben Dearnley and photographer Richard Booth.
The artists had their work commissioned by London 2012 sponsor BT for the exhibition which is part of the Cultural Olympiad programme.
Ms Statham said: "Working closely with Team GB's Olympic athletes, the artists have created a body of work that will contribute an artistic legacy to the historic London 2012 Olympics."
Grace and power
Cotswold-based artist Jeremy Houghton has produced a series of watercolours of the Olympic water sports.
He was commissioned to paint a portrait of The Queen in 2009 and is currently resident artist for The Prince of Wales at Highgrove.
Using bronze and marble, Bath-based Ben Dearnley has captured the grace and power of the athletes.
His sculptures include five-time Olympian Mark Foster, Olympic diver Leon Taylor and Ade Adepitan MBE, Paralympics wheelchair medallist and basketball champion.
Also on display are photographs from Richard Booth who has been commissioned to produce the official photographic story of the London 2012 Olympics.
Other works include pen and ink portraits by street artist Dylan Izaak and paintings by the official artist of the Professional Footballers' Association, Darren Baker.
The Art of Sport exhibition runs until 29 April.