Farming vehicle hangs from bridge on A34 in Oxfordshire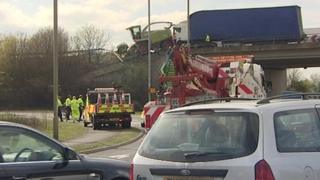 Efforts are continuing to remove a farming vehicle left hanging from a bridge on one of Oxfordshire's busiest roads.
The forage harvester collided with a lorry before crashing through a barrier on the A34 southbound at the Pear Tree Interchange at 13:40 BST.
The southbound A34 is closed while the recovery team carry out the work and diversions are in place.
Drivers are advised to avoid the area and take alternative routes.
Insp Colin Clark, from Thames Valley Police's Roads Policing Units, said they had no choice but to close the road.
"There was a danger if it had gathered momentum and gone through the barrier it would have gone down on to the entry slip court, causing further problems and obviously collisions," he said.
An eyewitness said: "It has nearly been pushed over the rails onto the slip road itself, so it's sort of dangling on the edge."
Nobody was injured in the collision.