Welsh Guards appeal: Annabelle Asher's charity walk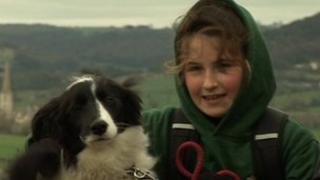 A nine-year-old girl inspired by the death of an officer in Afghanistan is walking 102 miles to raise money for a Welsh Guards charity.
Annabelle Asher, from Oxfordshire, is spending a week of her Easter school holiday walking along the Cotswold Way in memory of Lt Col Rupert Thorneloe.
Col Thorneloe, from Kirtlington, died in July 2009 when his convoy was hit by a roadside bomb in Afghanistan.
He was the most senior British officer to be killed in action in the country.
Annabelle decided to raise money for his regiment after seeing the Union flag draped over his name at Cothill House Prep School where he was a former pupil.
She is camping at night and is being supported along the walk by her parents who both teach at the boarding school near Abingdon.
Her dogs Meg and Izzy have also joined the challenge.
Despite snow, rain and a lack of sleep she is determined to complete the walk from Chipping Campden to Bath.
She said: "I think the Welsh Guards need more help than we do because they're out in Afghanistan
"I'm really tired and our tent's not that comfy because you've got to fit me, my mum and the two dogs in.
"I am planning to camp every night and keep walking until I get to the end, whatever the weather. The Welsh Guards are doing a lot more than this for me."
Her mother, Fiona said: "Adam and I are very proud of her. She has been selling the eggs from her chickens and has raised over £350 but wanted to do something more demanding.
"She loves walking - she had done the three peaks of Snowdon, Scafell and Ben Nevis by the age of six and a half."
The family set off on Monday and are walking about 20 miles of the national trail each day.
Her father, Adam said: "We've been playing I-spy with Annabelle to keep her going, but she's always got a smile on her face which is good.
"We're quite hardened campers so we've got all the kit, but I did wake up one morning and the condensation had frozen to the inside of the tent."
Annabelle is hoping to raise £2,500 for the Welsh Guards Afghanistan Appeal, which is helping families of those wounded or killed in action.