Phone box transformed into life-saving defibrillator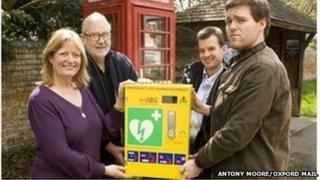 Parents of a teenager who died of sudden heart failure are installing a defibrillator in their village's old telephone box.
Beth Chesney-Evans and Crispin Evans, from Long Wittenham in Oxfordshire, hope the device could save lives.
Their son Guy Evans, 17, died in 2008 when his heart failed while he was riding a motorbike.
The village is thought to be the first in the county to install a phone box defibrillator.
Mrs Chesney-Evans, 58, said: "Guy came off his motorbike and landed face-down in a ditch and his heart stopped. He had stopped breathing and died before paramedics got there.
"The recent news about the young Bolton footballer Fabrice Muamba... has highlighted the importance of people knowing what to do when someone's heart suddenly stops and they can't breathe.
"Fabrice was so lucky that it happened where paramedics were on hand to give him CPR [cardiopulmonary resuscitation] in those few vital few minutes after he stopped breathing and could use a defibrillator to shock his heart back into working again.
"Many villages are some distance away from an ambulance or paramedic station. Having access to a defibrillator in the local phone box could potentially really help to save lives."
The idea for using the old phone box came from Guy's father after the village parish council bought the box for £1 from BT and invited suggestions for how it should be used.
Villagers then raised £2,500 to buy the defibrillator, with the parish council donating £1,000 towards the cost.
To use the locked defibrillator users must key in a code which can be accessed by phoning 999.
Mr Evans said: "I know Guy would be thrilled to think the box was going to be used in this way to help others. We miss him dreadfully, but we're determined to carry on campaigning for some good to come out of our loss."