John Bramwell, Jess Hall and Sonic Rising feature at BBC Introducing gig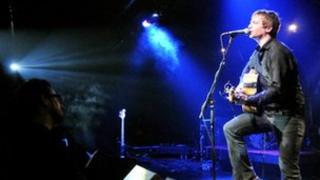 The next Upstairs at the O2 Academy gig in association with BBC Introducing sees I Am Kloot singer John Bramwell and hotly-tipped Sunderland band The Lake Poets guest on a bill alongside a selection of Oxfordshire musical artists.
Playing with them at the Oxford show on Saturday 21 April are singer songwriter Jess Hall, drone rockers Sonic Rising and folk-poppers Empty White Circles.
Jess Hall said: "I'm really excited to be part of something that is becoming a regular feature on the Oxford music scene."
Jess has released a six track album called Red Jumper, which in her own words consists of "folksy intimate songs about life, knitwear, and growing old, with some guitar picking along the way.
"It also has quirky and emotive lyrics with strong melody lines that remind you of your grandparents, that trip to the seaside you took once, and the map you used to get there."
Jess also teased that she was preparing "something special" just for the night.
"I hope that people can expect some good quality local music from the three Oxford acts, with the added draw of some out of town folks sharing their songs and strumming," she said.
'Wall of sound'
Sonic Rising consists of members from the bands Spiral 25 and Lucifer Sun.
They formed in the summer of 2011, released their first track in November, and played their first gig in January.
Chris Monger, organ player in the group, promised music lovers an "all out assault on the senses" and a "great reason to dance, and a ringing in your ears the following morning, but for all the right reasons."
He summed up the band's groove-driven rock and roll as "a little Stooges/Detroit garage swagger with motorik rhythms circa Germany 1970s, three guitars creating a sheer wall of melodic noise, and subby-harmonic bass rolling around ethereal vocals that soar above our wall of sound like a sixth instrument.
"Floating and piercing organs swirl in the mix, a nod to our more psychedelic influences, along with the hypnotic repetition and drone that runs through each song's vein."
But the night is topped by John Bramwell, who is taking time out from I Am Kloot to perform a solo acoustic set of their classics.
His band were nominated for the Mercury Music Prize in 2011 and are currently in the studio working on the next album.
Providing strong support are The Lake Poets whose debut single City By The Sea was released on April 2.
The indie-folk band count the BBC's Tom Robinson amongst their fans.
Every month a selection of local talent plays the regular band nights at the O2 Academy, with highlights featured on BBC Radio Oxford's Introducing programme .