North Leigh FC break-in causes £7,000 worth of damage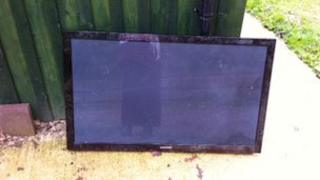 An Oxfordshire football club has been left with a bill of about £7,000 after a burglary caused a "huge amount of damage" to its club house.
North Leigh FC's new building was flooded when beer taps were left open and hundreds of pounds worth of alcohol was taken over the weekend.
The offenders also attempted to steal a green VW car parked outside the club overnight.
General secretary Keith Huxley said they were "devastated" by the crime.
He added: "The matches mid-week we've got to cancel because there is no food, no beer and obviously there are a load of smashed doors about the place but we'll recover and we'll be there next season."
The club had just won the Oxfordshire Senior Cup and despite the damage said it would still host the Oxfordshire Charity Cup final on Saturday.
Thames Valley Police said the burglary at Eynsham Park occurred between 18:30 BST on Saturday and 10:15 BST on Sunday.
Three of the club's televisions were stolen and its largest one was destroyed in the raid.