'Blue' baby saved by 999 phone instruction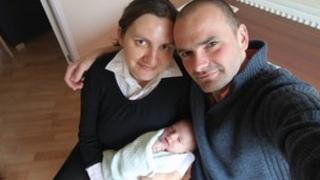 The parents of a three-day-old girl who turned blue after she stopped breathing have praised a phone operator and paramedics for saving her life.
Beata and Andrzej Kolon from Chandler's Ford, Hampshire, dialled 999 when baby Leokadia had a respiratory arrest.
They were given CPR instructions by an operator in Bicester, Oxfordshire, but she had further arrests at home and en route to hospital.
The couple said they were "amazed" at the care their child received.
'Very blue baby'
Andi Parker, an emergency care practitioner for South Central Ambulance Service, arrived on the scene following the "effective and excellent CPR instructions" emergency call taker Shabina Akhtar gave to the couple.
He said he administered oxygen when the child stopped breathing again.
"A very blue baby became alert and pink when transferred to the care of an ambulance crew," he added.
But Leokadia had a third arrest on the way to Southampton General Hospital and technicians had to revive her.
She spent a further three days on the high dependency unit before being discharged.
In a statement the Kolons said: "We are absolutely amazed with the support we were provided with by the NHS beginning with the labour ward in Winchester, continuing three days later with the lady who took our 999 call and instructed us on CPR, the ambulance crews who attended Leokadia, the High Dependency Unit at Southampton General Hospital and lastly with the midwife care we received in Southampton and Chandlers Ford.
"We want to tell Leokadia's story as we, more than most, now understand how important it is to spread the knowledge about CPR amongst other parents."