Oxford Half Marathon route 'made more scenic'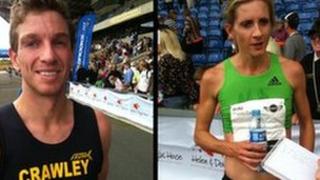 The route of the Oxford Half Marathon has been changed for the 2012 race to make it more appealing for runners.
Two thousand people took part in the city's inaugural event last September, which started and finished at the Kassam Stadium.
Organisers said when it returned on 14 October it would take in Christ Church Meadow, the Thames Towpath and the Cowley Mini plant.
Up to 6,000 people will be able to take part.
The race would again start and finish at the Kassam Stadium but the new route would be "more scenic", race organisers said.
They have also promised to sort problems with parking and traffic which delayed the race last year.
By holding it in October rather than September they hope to attract more students.
The 2011 half marathon raised £16,000 for Helen and Douglas House charity.