Bishop of Oxford tries to live on £1 a day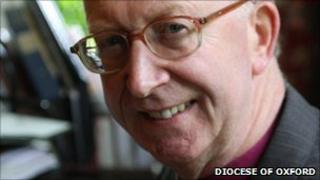 The Bishop of Oxford is aiming to live on £1 a day for five days to raise awareness of global poverty.
Previously the Right Reverend John Pritchard has given up carbon for Lent and walked across coals for charity.
During the week he will be surviving on 14p porridge for breakfast, reconstituted soup for lunch and a lentil dahl for dinner.
Bishop Pritchard said it was a symbolic action to identify with the 1.4bn people in a similar position.
He added: "That's a vast proportion of the world's population and I think we don't stay aware of that figure."
Bishop Pritchard said he was managing well and continuing to work during his challenge. Later he will attend the Order of St Frideswide service and dinner at Christ Church Cathedral.
"I'm going to have to take along my dahl and eat it alongside people having this wonderful three-course meal with wine and the rest of it so that will be more of a trial I think," he said.