Oxford Pathway Workshop charity facing funding crisis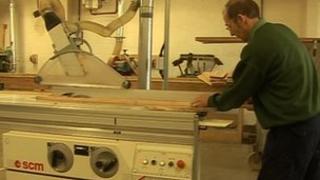 An Oxford employment charity for disadvantaged adults faces closure unless it can secure more funding.
The Pathway Workshop in Blackbird Leys provides work and training opportunities for people aged between 16 and 80.
In business for 25 years, the charity employs 17 disabled people. It makes money from selling furniture and firewood as well as fund-raising.
It currently receives no government support and costs £250,000 to run.
The Pathway Workshop has traditionally applied to independent trust funds and made up its cash shortfall through furniture production and sales.
In recent years, that trend has reversed as donations have decreased.
Poor sales of firewood during the recent mild winter, coupled with an overall drop in donations, means some staff may not be paid.
'Can't produce'
Manager and chairman Bill Pattison said: "When you're a small charitable company that relies on different forms of income, but mainly on charitable donations, then the economic climate really does hit you hard.
"We as a charity and a company have increased the output that our guys make from timber, but there's only a certain capacity we can work to before we can't produce any more."
Clients include Honda's workshop in Swindon, Blenheim Palace and various shopping centres and schools.
Mr Pattison said: "It's a very cold, hard fact that you have to generate income to survive, no matter what line of work or charity you're in.
"We're now starting an appeal to the wider community that we're here, we do something worthwhile and we need your help."
The charity's ethos is to help disadvantaged adults understand the concept of going to work.
Andrew Kyle, 27, has worked at the charity for 11 years since leaving college.
He said: "This place allows me to interact with other people who I don't know and it gives me huge confidence at work.
"I started working here just one day a week. Since then, I've built up my qualifications and I now work under the supervisor."