Queen Victoria's personal journals published online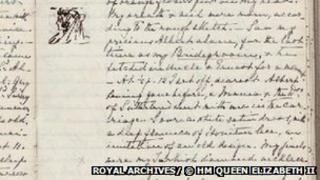 Members of the public can see the personal journals of Queen Victoria online for the first time.
Experts at Oxford's Bodleian Library have put 43,000 pages from her 141 journals on a website.
The journals had only previously been accessible by appointment at the Royal Archives at Windsor Castle.
Created to mark this year's Diamond Jubilee, it has taken staff from the library eight months to produce the 43,000 pages.
Queen Victoria's journals cover her 63 years on the throne, from her coronation and her marriage to Prince Albert to her Diamond Jubilee of 1897.
Victoria came to the throne aged 18 after the death of her uncle William IV in 1837 and was a prolific writer, recording her thoughts and experiences almost daily.
Digital images have been taken of every page of the surviving volumes, along with photographs of the many illustrations within the pages.
'We kissed each'
The intimate side of the queen is revealed through an entry after her marriage to Prince Albert in February 1840.
She wrote of her new husband: "He clasped me in his arms, and we kissed each other again and again!
"Oh! was ever woman so blessed as I am."
Another entry on her coronation in June 1838 reads: "I really cannot say how proud I feel to be the Queen of such a nation."
David Ryan, Assistant Keeper of the Royal Archives, said: "The virtue of digital access is its ability to reveal the thoughts of Queen Victoria to millions around the world, providing them with a record of the important political and cultural events surrounding a monarch whose name defined an age."
Victoria died in the early evening on 22 January 1901 at Osborne House, Isle of Wight, surrounded by her children and grandchildren.