Oxford street traders face licence fees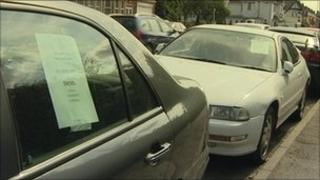 Any street trader on a public road or footway in Oxford now has to have a licence after councillors approved new fees at a meeting on Monday.
Licences will cost between £60 for one week and up to £2,600 for a year.
The council said the charges only covered the costs of administering the scheme which is designed to clamp down on rogue traders.
Paul Rowcliffe who owns Fillin Station Snack Bar in Cowley said he had reacted with "horror" to the charges.
He added: "It is a huge amount of money out of my annual turnover."
The private trader pays £1,200 for his pitch and has to commute to Oxford from Swindon.
He said: "I feel let down because I've lived in Oxford for 16 years and I had to move because I got made redundant and I couldn't afford to live here."
The council's licensing committee said that financial hardship may be relevant when granting or renewing individual licences but the general fee was reasonable.
Traders within University Parks and Christchurch Meadow, stalls in the Castle Complex and roadside car sellers will all require a licence under the scheme.