North Oxfordshire MP Tony Baldry is made a Knight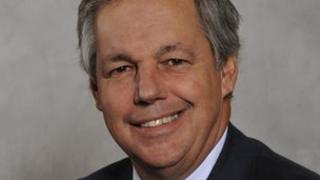 North Oxfordshire MP Tony Baldry has been made a Knight in The Queen's Birthday Honours list.
The former aide to Margaret Thatcher and MP since 1983 was awarded the title for public and political service.
Other county residents honoured include Professor Lorna Casselton, of the University of Oxford, who was appointed CBE.
Mrs Angela Perry, who volunteers for The Falkland Islands Memorial Chapel, was appointed MBE.
She was recognised for charitable services through the Falkland Islands Memorial Chapel Trust and her earlier work with the Foundation for the Study of Infant Deaths.
"I'm very honoured and very surprised I never thought anything like this would ever happen to me," she said.
The chapel in the Berkshire village of Pangbourne will mark the 30th anniversary of the liberation of the Falkland Islands on Sunday and is expected to attract about 850 people.
Professor Casselton was honoured for her services to fungal genetics and to international science.