Cement mixer crash blocks A34 in Oxfordshire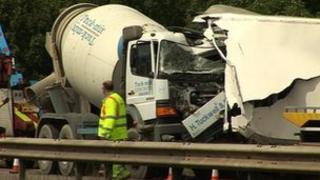 A road in Oxfordshire was closed after a collision between a cement mixer and a van left concrete on the carriageway.
The crash happened at about 13:15 BST on the A34 southbound before the A4130 Milton Interchange, causing a tailback stretching five miles (8km).
Thames Valley Police said the driver of the cement mixer was taken to the John Radcliffe Hospital.
Both lanes were initially closed for one hour, before one lane was opened.
But the road came to a standstill again as the vehicles were prised apart and removed.
Speaking at 14:45, Eddie Nolan, 20, from Kidlington, said: "All I see is cars and cars and cars, all the way down.
"I've been here an hour and haven't moved at all."