Berks, Bucks and Oxon Wildlife Trust aims to buy Upper Common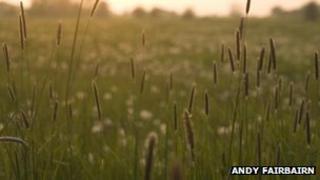 A wildlife trust aims to raise nearly £100,000 in just six weeks in order to buy a riverside meadow in Oxfordshire.
Upper Common, an 11-hectare site next to Berks, Bucks and Oxon Wildlife Trust's Chimney Meadows, is for sale following the death of its landowner.
Neil Clennell, head of conservation and education, said its "wildlife value" could be "lost forever" if a landholder bought the site near Bampton.
Chimney Meadows is home to threatened wildlife including the water vole.
Its wildflowers attracts butterflies, dragonflies and damselflies.
Mr Clennell added: "With the right management we could transform Upper Common into a colourful meadow, teeming with life once again.
"Using green hay cut from the nature reserve we can spread wildflower seed on to prepared ground where species like knapweed, fairy flax and delicate quaking grass can flourish.
"There are already signs of water voles and otters on Upper Common and with a bit of work we could provide safer habitat, helping these much-loved creatures to survive.
"Opportunities to buy land like this are exceedingly rare. If someone else purchases this land, the vital restoration work needed on the meadow and waterways is unlikely to happen."
The owners have set a six-week deadline before placing the meadow on the open market.
If the trust makes the £99,750 target in time, it also plans to make the site available to the public via a circular walk through the common.