RAF Benson helicopter crews exercise freedom of Wallingford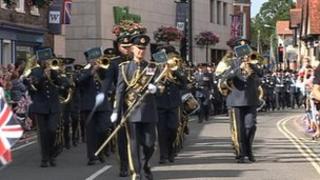 A ceremonial march by RAF helicopter crews through an Oxfordshire town has taken place.
One hundred servicemen from RAF Benson marched through Wallingford, exercising their freedom of the borough which was granted in 1957.
It marked the helicopter crews' continuing missions in Afghanistan.
Group Captain Richard Mason said: "We simply couldn't do what we do without the support that Wallingford and the surrounding area give us."
The RAF Merlin Force and RAF Support Helicopter Force are permanently stationed in Afghanistan with personnel constantly being deployed and returning, so there has been no opportunity for a mass homecoming parade.
The base's Puma helicopters will also be used in the security operations for the forthcoming Olympic Games.
The crews marched over the 900ft (275m) long Wallingford Town Bridge with swords drawn and bayonets fixed, before entering the town centre where the mayor took the salute.