Oxford walk to save Manet painting for British public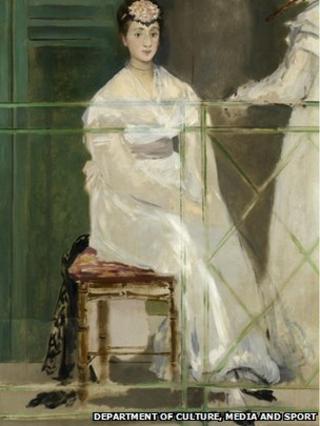 Campaigners fighting to save a Manet painting from being sold abroad in four weeks have taken to the streets of Oxford.
The group was highlighting an Ashmolean Museum campaign to buy the Portrait of Mademoiselle Claus for the public.
They followed a trail of 10 replica portraits hung around the city.
An extra £595,000 is still needed to reach the £7.83m needed before a temporary export bar is lifted and the painting is sold to a foreign buyer.
The painting by the French impressionist painter is currently on display in the Ashmolean Museum.
'Race against time''
It has been exhibited only once since it was painted in 1868.
Ashmolean Museum director Dr Christopher Brown said: "This is a race against time. We only have four weeks to raise the final amount and we need the public's support.
"This picture is one of the most important Impressionist works in the UK and we must seize this opportunity to keep it in the country in a free public museum."
The 111 x 70 cm oil painting had been sold to an unnamed foreign buyer for £28.35m.
But Culture Minister Ed Vaizey put an export ban on the picture until 7 August and it was offered to the museum minus tax at £7.83m.