Oxfordshire road maps to ease rural lorry traffic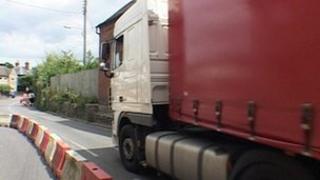 Specially-produced road maps of Oxfordshire have been distributed in a bid to ease lorry traffic on rural routes.
Oxfordshire County Council has produced the maps to help haulage companies plan HGV journeys more effectively.
It said HGVs going through country villages were an "ongoing problem".
Whitchurch on Thames resident Harry Butterworth said villagers were "fed up with lorry drivers snarling up the traffic".
He blamed lorries getting stuck in the village's narrow main street on drivers following satellite navigation devices.
A council statement said: "What we have now done for the first time is to draw up a comprehensive map of routes which indicates how suitable they are for HGVs."
The new detailed maps show routes for large vehicles around towns including Banbury, Bicester, Wallingford and Witney.
James Hookham, of the Freight Transport Association, said: "This is the sort of information lorry drivers need - knowing where restrictions are is really important.
"Putting them on a map as clear as this is a real step forward."