Plan for reading tuition for Oxfordshire pupils unveiled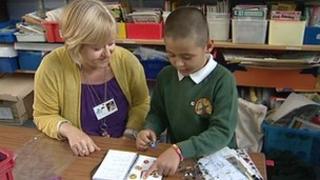 More than £500,000 is to be spent on improving basic learning skills in Oxfordshire's primary schools.
The plan is to use 500 volunteers to give extra one-to-one tuition at the 80 schools which have been identified as having the biggest problems.
Melinda Tilley, cabinet member for education, said: "We've more PhDs than you can shake a stick at but are doing badly [on] reading for youngsters."
Oxfordshire County Council said the project would begin in September.
In 2011 Oxford had the worst performing primary schools in England for reading, writing and maths.
Schools will volunteer to take part in the scheme which will be run by the National Literary Trust.