Bands sought for Oxford Half Marathon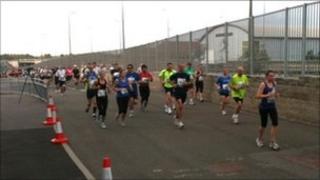 Runners at the 2012 Oxford Half Marathon could be entertained by a selection of bands, choirs and orchestras, say organisers.
They are inviting musicians to play at about eight spots along the course.
Runners will then vote online after the race with the best group receiving a £500 cash prize.
Race director Dave Box said: "It's important that we give the runners and also spectators a really fantastic event along the whole 13.1-mile route."
He added: "It really is open to anybody who feels they want to be part of this."
About 2,000 people took part in the first Oxford Half Marathon last September.
The race was won by James Bellward from Crawley Athletic Club in a time of one hour 11 minutes and three seconds.
The women's race was won by two-time Olympian Liz Yelling.
Yelling, 37, completed the course in a time of one hour 14 minutes and 40 seconds.
The 2012 race will take place on 14 October.