Oxford Lord Mayor's comment to be investigated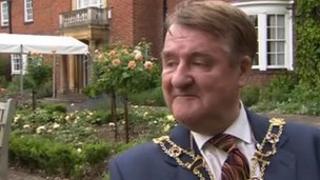 The Lord Mayor of Oxford is to be investigated as to whether a comment he allegedly made while visiting a school breached the council's code of conduct.
Liberal Democrat Councillor Alan Armitage has already been investigated by Oxfordshire County Council but deemed not a threat to child safety.
The city's investigation is expected to take a number of weeks to complete.
Mr Armitage declined to comment on the matter until the investigation had been concluded.
Labour councillor Susanna Pressel, who sits on Oxford City Council's standards committee, said she was not aware of the exact nature of the comment which Mr Armitage made during a visit to an Oxford school in his capacity as Lord Mayor.
She added that lay members would initially look into complaint before referring the issue to the elected members of the committee.
A range of sanctions are open to the Standards Committee if councillor Armitage is found guilty of any offence, ranging from a warning to dismissal in the most serious instances, she said.
A spokesman for Oxford City Council said: "It would be inappropriate, and unfair to Councillor Armitage, for the authority to make any further comment until the investigation has been concluded."