Bernwood Forest gets makeover thanks to £200k funding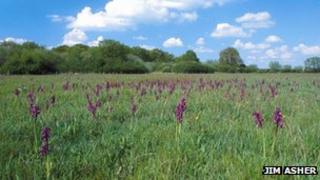 More than £200,000 of funding is going towards the conservation of an ancient hunting forest on the Buckinghamshire and Oxfordshire border.
Berks, Bucks & Oxon Wildlife Trust (BBOWT) obtained the grant from Waste Recycling Environmental (Wren) to carry out the work within Bernwood Forest.
Chris Williams, head of conservation and education, said it would fund "crucial" work over three years.
Plans include work on hedgerows to attract butterflies and birds.
He added: "The wildflower meadows and species-rich hedgerows of the former Bernwood Forest are just as important for butterflies and birds as the woodland.
"Thanks to the grant of £222,910 from Wren we will be able to start work this winter on the hedgerows at Finemere Wood, Asham Meads, Bernwood Meadows and Rushbeds Wood.
"Our work at Whitecross Green Wood includes cutting back into the woodland in places along the grassy rides.
"These 'scallops' create warmer conditions in the lee of the woodland which is the perfect habitat for butterflies."
The trust aims to have livestock grazing the wildflower meadows in 2013.