Oxford University's medical research facility to expand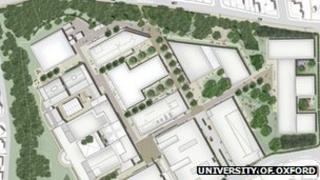 Oxford University plans to expand its medical research facility after agreeing to buy the site of the Park Hospital in Headington.
Four new laboratory buildings are planned for the site, next to the university's Old Road Campus, to be used for clinical trials for drugs.
If agreed, there will also be an "amenities building", including a cafe and childcare facility.
Works on the site are expected to last until 2042.
Prof Rodney Phillips, of Oxford University's medical sciences division, said: "Patients at the nearby hospitals will have first access to clinical trials and new drugs, and they will be treated by world-leading medical researchers."
Oxford Health NHS Foundation Trust, which has sold the site for an undisclosed fee, will continue to use the children's hospital on the site on a 20-year lease. This building will eventually be demolished.
The University of Oxford has submitted a planning application to Oxford City Council.