Harry Potter's Robert Hardy opens steam-powered mill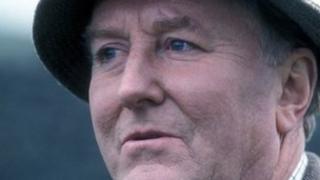 A steam-powered Victorian saw mill in Oxford has been reopened to the public by actor Robert Hardy.
The 86-year-old Harry Potter and All Creatures Great and Small star attended the event at Combe Mill which forms part of the Blenheim Estate.
The actor unveiled a plaque to mark the official opening as part of his visit.
The working industrial museum has undergone a year's conservation work, funded by a heritage lottery grant.
The attraction received £768,000 to repair the building and improve the exhibits.
'Preserve our past'
Mr Hardy said: "The heritage lottery fund is one of the most important protection developments.
"Interesting the young so that they have some sort of appreciation and can join the battle to preserve what is worth preserving of our past is a very important thing to try and do."
A mill at Combe is mentioned in the Domesday Book in 1086 but the current building dates to 1852 when it was built as a dual powered sawmill run by both water and steam.
It forms part of the Blenheim Estate, the birthplace of Sir Winston Churchill.