Trigger twins' A-levels secure Oxford University places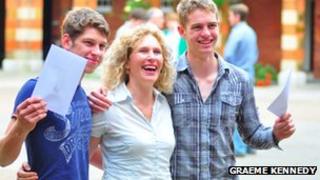 Twin brothers who are heading to Oxford after achieving identical grades at A-level have said their late father would have been "extremely proud".
Alec and Jack Trigger, 18, from Esher, Surrey, got one A* and three A grades at Wellington College, Berkshire.
They were given Foundationer places after the death of their army brigadier father, Richard Trigger MBE.
"It's really nice that we've done the same, there's not one of us doing better than the other," Jack said.
"I love Oxford, I can't wait to do the course and join all the clubs," Alec added.
Both teenagers will study engineering but say the plan was never to go to the same university.
The brothers also admit to being "very competitive in everything".
"We can't do one thing without thinking what the other person is doing." Jack said.
Claire Trigger said she was "absolutely delighted" with her sons' results.
"It's an amazing achievement and a real acknowledgement of the hard work they have done" she added.
Wellington College offers partly-funded Foundationer places to children who lose a parent in the military.