WWII mid-air collision above Chipping Norton remembered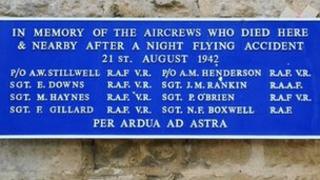 A World War II mid-air crash over Oxfordshire has been remembered at a 70th anniversary service.
Eight aircrew died when a Vickers Wellington bomber and an Airspeed Oxford trainer collided above Chipping Norton early on 21 August 1942.
The bomber crashed in flames on to a house in the town - miraculously, no-one on the ground was injured.
RAF Brize Norton personnel joined residents and Royal British Legion members at a service and wreath-laying.
After the collision, the training aircraft came down at Cott's Farm, Over Norton, killing both of the crew on board.
All six men in the Wellington bomber died when it crashed into the house in Church Street.
The cause of the crash could not be confirmed but was thought to have been due to the darkness of the night, at a time when onboard radar was still in the early stages of development.
The service also commemorated the 33 aircrew who lost their lives in six other training accidents in the area during World War II.