Didcot recycling bank axed by south Oxfordshire council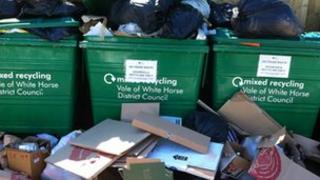 An authority has closed a recycling bank after it was deliberately misused for the dumping of commercial waste.
South Oxfordshire District Council installed the bank at the Orchard Centre in Didcot but it was used by fly-tippers.
David Dodds, cabinet member for waste, said: "Residents are suffering at the hands of the irresponsible few."
The council said residents could still leave recycling outside their homes.
It added the situation had led to a large increase in waste going to landfill, payable by the district council in landfill tax.
Evidence gathered
"Businesses have a responsibility to dispose of their waste through the correct channels, and dumping their waste in this manner amounts to fly-tipping" it said.
The Vale of White Horse and South Oxfordshire District Councils are considering removing other banks after an increase in similar incidents.
Reg Waite, cabinet member for waste at the Vale, said: "We will not allow the individuals responsible for this to get away with fly-tipping like this.
"These recycling points are to assist ordinary residents who are being let down by the guilty parties."
Evidence is being gathered and prosecutions will be sought, the councils have said.