Scheme trains young chefs in Oxfordshire local food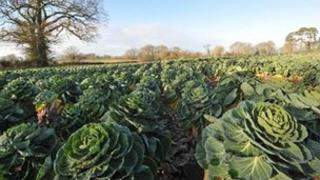 A work experience scheme to encourage young people's knowledge of local food has been started in Oxfordshire.
The new Field to Fork programme is training three 16 to 18 year-olds, who are out of mainstream education, in all aspects of food production.
Project manager Doireann Lalor said it was "training up a new generation of chefs which is socially and environmentally switched on".
The youngsters have begun a challenge to design and cook a seasonal menu.
The scheme is run by Turl Street Kitchen restaurant in Oxford and Oxfordshire's Cultivate local food co-operative, with county council funding.
It aims to train young chefs in environmental issues surrounding food production by letting them work with farms, restaurants and community food groups.
Ms Lalor said: "They are getting really, really connected to food in the field - literally getting their hands dirty."
The youngsters are sourcing and harvesting local ingredients for a seasonal menu to serve at an event at the end of the scheme.
The three who are out of mainstream education have recently secured places in Oxford and Cherwell Valley College's catering and hospitality department.