VC10 flight from Brize Norton marks 50 years RAF service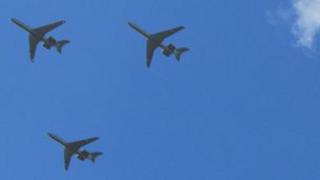 A flight of three RAF VC10 transport aircraft has taken place to mark the plane being in service for 50 years.
The planes took off from RAF Brize Norton in Oxfordshire and were due to stop at RAF Lossiemouth, Leuchars, Waddington, Coningsby and Marham.
Squadron Leader Kat Thompson said the planes had proved "versatile and capable".
VC10s have been used to deploy troops around the world as well as providing in-flight refuelling.
They are due to be retired in March 2013.
The RAF said the anniversary flight was also part of ongoing training for the air crews.