RAF Bicester: 'No scope for housing'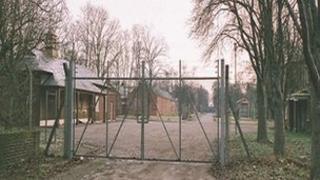 No planning applications for housing on a former Oxfordshire airfield will be granted, a local council has said.
Cherwell District Council believes Ministry of Defence bid documents for the former RAF Bicester site may be giving "a false impression".
The airfield has been redundant since 2004 after the MoD deemed it "surplus to requirements".
Expressions of interest are being invited ahead of a 14 September deadline.
Cherwell District Council has formed a partnership with campaign group Bomber Heritage Command to establish a museum and education centre.
The council is concerned marketing information currently available for the site may give the impression of scope for housing some time in the future.
Its draft local plan, Bicester Masterplan and existing RAF Bicester Planning Brief, published in 2009, all rule out support for residential development.
'Hit the jackpot'
Councillor Michael Gibbard, lead member for planning, said he was concerned the bid material could give interested parties "a false impression".
He said: "The site is to be used for heritage and tourism purposes, and we are seeking interest from developers with this ambition only.
"There is absolutely no scope for housing."
The council added hotel and conference facilities could be considered, but would only be approved if they ensured the site's core uses remained economically viable.
Earlier this month, the council confirmed it would help Bomber Heritage Command prepare its formal bid for the site.
Chairman Dean Overton said the group was in "total agreement" with the council's position.
"We felt it was wrong for the MoD to give any prospect that housing may be viable, especially when the council had ruled it out on three previous occasions," he said.
"Our fear is that if some rash developer decides to take a fly on the site, we might end up with houses there and then they would have hit the jackpot."
An MoD spokesperson said they would continue to liaise with Cherwell District Council with regards to the future of the site.