Yarnton rock climber Jake Lloyd recovers after 35ft fall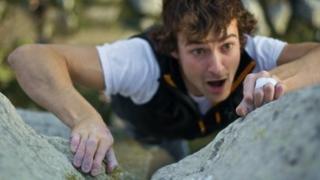 A rock climber who fell 35ft (10.7m) down a cliff breaking his pelvis, two ribs and part of his spine has vowed to climb again.
Jake Lloyd, from Oxfordshire, fell onto his back at St Govan's Head in Pembrokeshire, Wales, when his safety clips gave way after he slipped.
The 23-year-old, who recently returned home after a week in hospital and has just started walking again, said he hopes to be climbing again in a month's time.
"Having an accident like this hasn't put me off from climbing at all - if anything the opposite - I can't wait to get fit again so I can go back on the same route and this time do it properly", he said.
'Being complacent'
Mr Lloyd, of Yarnton near Kidlington, said he should have placed more pieces of protective equipment in the rocks as he climbed the cliff.
A friend he was climbing with raised the alarm after the accident on 15 August, before he was airlifted to hospital.
"I feel a bit stupid because it was my fault," Mr Lloyd said. "I was being complacent and thought I was more capable than I was - I normally have a back-up system in place and I didn't this time.
"Next time I will put in the right protection so it is safe to fall off and more importantly I will try not to fall off in the first place. I hope to be climbing again by next month.
"I'm starting to walk very slowly and I can manage to get up the stairs - the doctors said fortunately I should make a full recovery."
Mr Lloyd's mother said she supports his decision to begin climbing again.
"I'd be unhappy if he stopped and concerned if he allowed fear to take over and I think climbing is an excellent sport and should be encouraged," she said.
"I would like to see rock climbing taught in schools and I'd be unhappy if he stopped.
"I just hope that he doesn't go back up too soon."