Town criers compete in Banbury's national tournament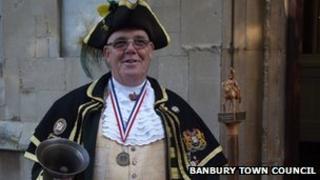 Town criers have competed at an Oxfordshire town in a national tournament to test their skills.
Banbury Town Council said about 25 of England's town criers took part in the 8th annual competition.
Entrants were judged on two cries and this year's categories were "what happened on this day" and "which Olympian would you be".
The event coincided with the town's 20th annual charity Street Organ Festival.
Organists played at various sites around Banbury in Victorian dress to raise money for Dogs for the Disabled.
Over its 20-year history this event has raised about £120,000 for local charities.
The town mayor of Banbury, Tony Ilott, said the events aimed to fill the town "with the sights and sounds of times past".