Oxford United and Swindon Town FC derby: Police issue warning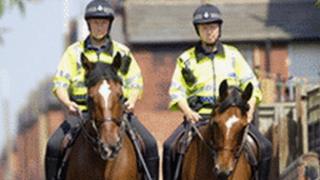 Police have warned troublemakers to stay away from a derby between Oxford United and Swindon Town FC.
The football league trophy match takes place at the Kassam Stadium in Oxford on Wednesday at 19:45 BST.
Ch Insp Jim O'Ryan, of Thames Valley Police, said: "[We] will support Oxford United to ensure anyone who wants to enjoy watching football can do so."
Thirteen people were arrested following the last match between the two teams at the Kassam Stadium on 3 March.
A police spokesman said the derbys had a history of attracting people "intent on causing trouble" and that a policing operation would be in place to deal with disorder in a "robust" manner.
He added: "We recognise that the vast majority of supporters will be there to enjoy the game and have a good time.
"Thames Valley Police would like to reassure football fans attending the game and residents in the local area who will be going about their normal evening."
Ch Insp Jim O'Ryan said: "Anyone intent on causing trouble should stay away."