Town criers raise charity money in Banbury contest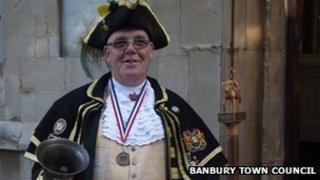 Town criers who took part in a contest in an Oxfordshire town helped to raise £1,500 for charity.
Adrian Holmes, from Sandwell in the West Midlands, won the eighth national Town Criers Competition in Banbury on Saturday.
The event coincided with the town's 20th annual charity Street Organ Festival and money raised from both events will go to Dogs for the Disabled.
Entrants were judged on two cries.
This year's categories were "what happened on this day?" and "which Olympian would you be?"
Anthony Church, the town crier of Banbury, said: "We had 15 town criers from around the country take part.
"The weather was good and lots of members of the public were standing around and watching."