Dame Barbara Stocking steps down from Oxfam role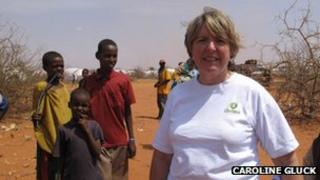 The chief executive of Oxfam GB is set to step down from her role after almost 12 years in charge of the charity.
Dame Barbara Stocking, who has led the organisation since May 2001, will resign her role in February 2013.
She said: "It is essential that Oxfam keeps developing and reinventing itself to remain relevant in the world."
A spokesman for the charity, which was founded in Oxford 70 years ago, said the recruitment process for the role would begin shortly.
Barbara Stocking was made Dame Commander of the British Empire for humanitarian services in 2008.
In December 2010 she was appointed as a non-executive board member by the Cabinet Office.
She added: "I have loved leading Oxfam and would like to sincerely thank not only the thousands of dedicated staff working in some of the most difficult areas of the world, but also the public who have supported in so many ways.
"I am looking forward to watching Oxfam continue its vital role as the voice of the millions of people unjustly living in poverty around the world."
Oxfam employs 5,000 staff and carries out humanitarian work in over 55 countries, with an annual income of more than £380m.
The humanitarian organisation is to receive the Freedom of Oxford in October.