Viridor to restart liquid waste treatment in Ardley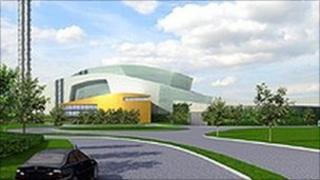 An Oxfordshire waste treatment plant that had been barred from processing liquid landfill waste can now start again following a council ruling.
Viridor, near Ardley, stopped taking leachate in July on the orders of Oxfordshire County Council following complaints from local villagers.
But its Planning and Regulation Committee has now decided it can start importing the fluid again.
The committee voted 10 to four in favour of the plant owner.
Residents in the village of Bucknell had claimed leachate caused a build-up in the sewerage system that could trigger flooding.
The company currently operates a landfill site near Ardley and the leachate plant which process the liquid which seeps out so it can be discharged into the water system.
The plant also takes in liquid waste from other landfill sites in the south-east of England that do not have their own leachate processing plants.
A waste-burning incinerator is currently being built on the Ardley site by Viridor.