Banbury 'have a go hero' detains robber and unmasks another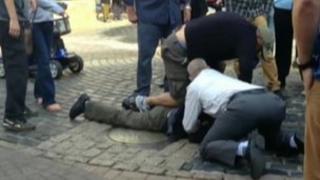 A "have a go hero" detained one armed robber and unmasked another during a hold-up at an Oxfordshire jewellers.
The gang, armed with a hammer, were stealing high value watches from a shop in High Street, Banbury, when the passer-by intervened.
The men fled when a security device in the shop discharged smoke and are thought to have escaped on motorcycles but one man was arrested at the shop.
Witnesses of the robbery, at 10:40 BST, should contact Thames Valley Police.
A bag containing some, or possibly all, the jewellery was found at the scene.