Oxford Botanic Garden audio tour reveal plant chemistry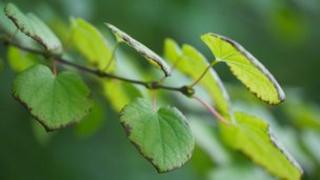 Visitors to the Botanic Garden in Oxford are being given the chance to explore the chemistry of its plants with a new audio tour.
Recordings of chemistry students and lecturers from Oxford University explain how ginger gets its flavour and how drugs are made from snowdrops.
There are 20 audio files that can be activated while walking in the garden.
Dr Alison Foster, of the Botanic Garden, said it illustrated chemistry's importance to people's lives.
She added: "It is a fantastic way for the research scientists to engage with the public about chemistry and to help change people's attitudes to chemicals for the better."
Visitors can listen to the chemists explaining how a lotus leaves use microscopic cushions of air to repel raindrops and how it is being mimicked to create self-cleaning roof tiles and window glass.
Other recordings reveal the chemistry behind a tree that smells of caramel.