David Cameron opens Carterton's RAF-themed playground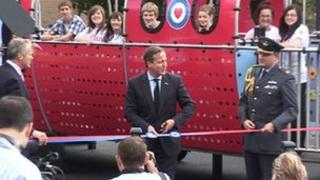 David Cameron has opened a £330,000 play area which aims to bring residents and RAF families closer together.
The RAF-themed park in Carterton, Oxfordshire, is situated near RAF Brize Norton and features play equipment shaped like a Hercules aircraft.
An Oxford County Council spokesman said the playground on Faulder Avenue would help "bridge the gap between the two communities".
The PM said he was "delighted" that local families would benefit.
He added: "I think for military families this is even more important because we're asking our military to do so many difficult things on our behalf.
"RAF Brize Norton is the leading airbase for the whole of the RAF.
"We've got the Hercules here, the Tristars, the C-17s [and] the VC-10s, so it's an enormous airbase and it's going to be expanding further so we really need to make sure there is everything that our Armed Forces' families need".
The airbase employs 3,900 service personnel and 600 civilians.
The playground had a £130,000 donation from the Ministry of Defence, which was matched by the RAF Benevolent Fund.
It forms part of a series of national projects to support young people based at RAF stations.