Suspended Dr Yenugula Srinivas's disciplinary case date set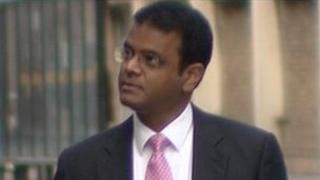 Disciplinary hearings against a doctor suspended since 2009 have been set for January by a High Court judge.
Dr Yenugula Srinivas was originally suspended in April 2009, accused of sexually assaulting patients.
Dr Srinivas, 43, of Oxfordshire, was acquitted last year of all 11 charges, after a trial at Oxford Crown Court.
Judge Andrew Gilbart, sitting in London, rejected a bid for disciplinary hearings to be delayed until next March as "too long a suspension".
Dr Srinivas, of Sandford-on-Thames, went on trial last October after being accused of carrying out intimate tests on patients which were not justified.
However, a jury later cleared him of all the charges, which included four of sexual assault and seven of assault by penetration.
Dr Srinivas remains suspended from the Oxfordshire practitioners' list and has also been suspended from practising medicine since June 2010, following a General Medical Council hearing.
At the High Court hearing, Judge Gilbart said he was limiting the length of the suspension because of the fact the issue is "so important to [Dr Srinivas's] career".
Correction 14 September 2012: This story has been amended since it was first published to make it clear the High Court hearing was not about whether Dr Srinivas should face disciplinary action at all, but to assess when the disciplinary hearing he will face should be scheduled.