Barry Callebaut factory staff in Banbury to strike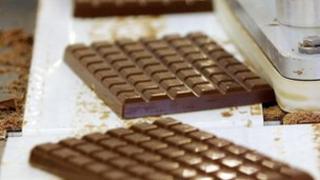 Chocolate factory workers in Oxfordshire are to take part in industrial action after their union failed to agree a pay rise.
More than 100 Unite members at the Barry Callebaut factory in Banbury intend take part in two 24-hour strikes on Friday and Monday.
The workforce has already walked out twice after over claims of unfair pay and a refusal by managers to negotiate.
But the company says there have been negotiations since March.
A spokesman for Barry Callebaut, which produces moulded and liquid chocolate for companies including Cadbury, Nestle and Hershey, said different options have been discussed with its workforce.
He added: "We feel that we have made a fair proposition with our latest offer and indeed we are keen to reach a settlement and are available to meet with the Union representatives to that end."
'Whopping pay rise'
Mick Polleck, Unite regional officer said: "Profits are up, but instead of awarding the loyal workforce with a fair pay deal the company is dragging its heels and refusing to negotiate.
"With the top boss pocketing a whopping 79% pay rise for 2011 and other workers getting a 2% pay rise, it is little wonder that our members' patience has run out.
"They have vowed to fight until they get a pay deal that reflects the contribution they have made to the company's success."
Mangers said the previous action had not stopped production at the company's operation in Banbury.