Sewage plant revamp aids Sir John Betjeman's Letcombe Brook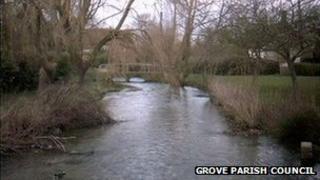 Work to stop sewage flowing into a rare Oxfordshire chalk stream which featured in a poem by Sir John Betjeman has been completed.
The Poet Laureate wrote about Letcombe Brook in On Leaving Wantage in 1972.
Thames Water's £5.4m project at Wantage sewer works has seen storm-overflow capacity increased and the quality of wastewater improved.
The brook is home to protected native species such as white-clawed crayfish, brook lampreys and water voles.
Three new storm pumps will ensure the plant can cope with increased waterflows during heavy rainfall, the firm added.
Mud-grey trout
It is hoped the work at the plant, which serves 25,000 people, will ensure treated wastewater going into the brook is of an "exceptionally high quality".
Sir John wrote about undulating duck weed and mud-grey trout in his 1972 poem.
Richard Aylard, Thames Water's director of sustainability, said: "The works operate well at the moment, but what we're doing is increasing the capacity to make sure it can continue to do so in the future.
"Treated wastewater makes up part of the flow of Letcombe Brook, so keeping the quality high, means a healthy river downstream.
"You can see this knock-on effect, with all the bugs, birds and other wildlife that are thriving in this globally rare natural habitat."