Henley's sewers to be to surveyed and repaired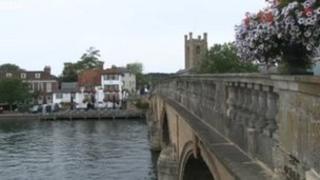 Sewers in an Oxfordshire town which have been blighted by flooding and blockages for the past decade are being repaired.
Thames Water said it would survey all sewers in Henley-on-Thames to try to solve the long-standing issues.
The work is expected to take 20 engineers at least six weeks to complete.
A spokesman said their aim was to carry out the work "to cause minimal disruption".
Bob Collington, Thames Water's operations director, said: "We have had repeated issues over the years in Henley and although we have put in a lot of short-term solutions, these have not solved the problem.
"We are now assessing the whole of the sewer network to make sure we find out exactly where the problems are and how to resolve them.
"We'll be looking down each sewer and surveying every street to map the sewers we already know about - and the ones that came under our ownership last year as part of the government act to transfer private sewers.
"This is a big job but we're working with Henley Town Council and local businesses, as well as our customers to try and ensure minimal disruption."