Oxford child catcher procession for trafficking awareness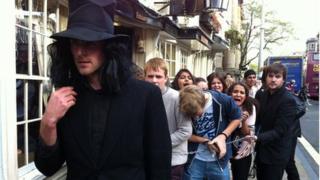 Children were led through Oxford by "child catchers" in a bid to highlight the problem of human trafficking.
Pupils from St Gregory the Great school and St Edward's School took part in the procession down High Street and Cornmarket Street.
They were led by "child catchers" inspired by the character from Chitty Chitty Bang Bang.
Oxford Community Against Trafficking's (OXCAT) event marked UK Anti-Slavery Day and EU Anti-Trafficking Day.
'Very fearful'
OXCAT campaigner Andy Dipper said the organisation had taken the opportunity to give the public advice on how to spot the "tell-tale" signs of human trafficking.
People were told signs to look out for included teenage girls living with older, unrelated males who drove them about and foreign nationals who seemed to rarely come out of their house except with a guardian.
Mr Dipper said: "We're really concerned that in Oxford and throughout the whole of the UK we've got a serious problem with human trafficking children and more and more adults are being trafficked in our cities.
"It's not just happening in Nepal and Cambodia and India - it's happening right here."
OXCAT is running schemes training taxi drivers to look out for the signs of trafficking when they pick people up.
Catherine Bearder, MEP for the South East of England, said: "This is quite a noisy demonstration in the street but in fact most trafficked people are silent because they're very fearful - they've been brutalised and had their documents taken away from them."