Oxfordshire pupils build prototype dome home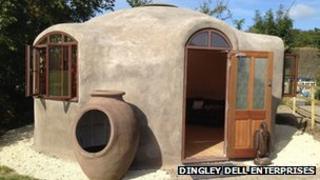 Students in Oxfordshire without any building expertise have helped to build a prototype dome home.
Year 12 students from North Oxfordshire Academy spent two days helping the designers put it together at the Hill End Centre in Eynsham.
Dingley Dell Enterprises says the construction shows how easily it could be built in developing countries.
It is made by inflating a dome template that is then covered in concrete and glass fibre rods.
The low-cost, eco-friendly building meets national building regulations but is constructed using 80 per cent less concrete than conventional construction methods.
Jay Emery, the company's director, said: "It was amazing how they got stuck in. They worked in shifts and we proved without a shadow of doubt that it can be built without any previous experience."
The six-metre dome gives 28 square metres of floor space and requires about £17,000 of raw materials.
Mr Emery said in the developing world it could easily be done for about £5,600.
"My hope is we can now find a worthwhile charity willing to build a pilot of 20 homes," he added.
The Eynsham Running Club, foresters from Wytham Woods and the Forest School also helped to build the dome home, at the county council's Hill End centre.
The home will now be used as an education space at the centre.