Henley's Old Bell closed for 'no good reason'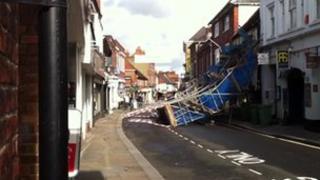 An Oxfordshire pub landlord said there was "no good reason" to close his pub for eight days after scaffolding collapsed onto it.
Bill Dobson could not open the Old Bell in Henley after a lorry knocked scaffolding onto it on 18 October.
The damage was fixed two days later but the county council left barriers up.
It said it was waiting for permission from the Health and Safety Executive (HSE) but it has since been revealed that the permission was not necessary.
Mr Dobson was originally trapped in the pub on the Thursday that the scaffolding collapsed but it was removed the same day.
Remedial work to the roof of his building and the neighbouring shop was then completed by the weekend.
But the barriers on the pavement outside his pub were then left in place for a week before being removed last Friday.
'Public safety'
Mr Dobson said as a result of the closure the pub lost roughly £4,000 in profit and although he was insured, it was a "big inconvenience".
He added: "People had to walk in the road which is really dangerous because it is a single track road."
An Oxfordshire County Council spokesman said: "The county council was called by the police to close the road for safety reasons after a Biffa vehicle struck the scaffolding next to the pub.
"Having been asked to place the barriers on site to protect public safety we sought, then awaited, confirmation from the HSE that it was safe to remove the barriers.
When this confirmation was ultimately given to us via the landlord of the building, we removed the barriers.
"The county council acted in response to a request from the police to close the road - we do not inspect or carry out safety checks of buildings."
But a spokesman for the HSE said: "It was not the decision of HSE to put the barriers up and it is not the decision of HSE to take them down.
"HSE have only advised that the scaffolding had to be removed safely."