Oxfordshire hate crime line set up to support victims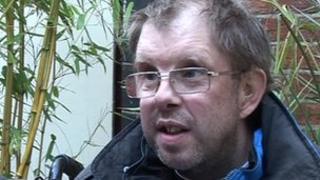 A dedicated helpline has been set up in Oxfordshire to raise awareness and reporting of hate crime.
More than 330 incidents were reported to Thames Valley Police last year but campaigners claim many more victims choose not to speak up.
The 24-hour service - run by charity Stop Hate UK - has received £10,000 funding from the police and councils.
Spokeswoman Una Morris said it is vital victims report crime and are encouraged to come forward without fear.
She said: "Statistics are only the tip of the iceberg.
"Those crimes actually recorded only tell you a fraction of what's happening. Some people don't want to talk directly to the police, so the service is there to offer support and guidance.
"If somebody is worried about talking to the police and that's their only option, they might not speak up at all. The helpline is there to try and prevent that from happening."
'Still traumatised'
Paul Scarrott, who has learning difficulties, was the victim of a hate crime when he was attacked by a group of youths in Oxford two years ago.
He said: "I still get traumatised even now when I go out at night time and my wife Jackie has to come everywhere with me.
"She has to be there with me otherwise I'm constantly looking over my shoulder all the time.
"I'm hoping this campaign makes a real difference to victims as we need to feel more people are on our side and there to support us."
West Oxfordshire District Council is among the local authorities supporting the helpline.
Bill Oddy, head of community services, said: "Nobody should suffer abuse because of who they are.
"This campaign highlights it will not be tolerated. Incidents of hate crime are not that common in Oxfordshire, but when it is reported we want people to know it will be treated seriously."