Oxfordshire councils handed extra flood risk powers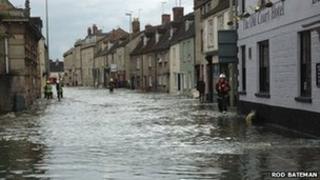 Two Oxfordshire councils have been handed additional powers to deal with the risk of flooding.
South Oxfordshire District Council and Vale of White Horse District Council will take responsibility away from the county council in three areas.
They include granting building consent in streams or waterways, investigating causes and reducing risks, and ensuring landowners maintain water flows.
The councils claim the move could save £10,000 a year between them.
Both councils have been informally carrying out these powers under the Flood and Water Management Act 2010 since severe flooding affected large parts of the county in summer 2007.
Councillor Judith Nimmo-Smith from South Oxfordshire District Council called the move a "common sense approach".
She said: "It will save money and reduce the amount of bureaucracy involved when a landowner or resident is concerned about a flood risk."
Councillor Elaine Ware from the Vale of White Horse District Council believes the move will give residents a continuity of service.
"We have been involved in investigating flooding and carrying out enforcement work for many years," she said.
"This transfer will guarantee residents receive expertise and knowledge from staff who deal with their inquiries."
The Environment Agency said the move will not affect its role in approving flood prevention and management across Oxfordshire.