Indira Gandhi study centre set to open in Oxford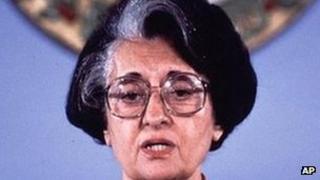 A £19m centre for Indian students to study sustainable development is set to open in Oxfordshire.
Named after former Indian prime minister Indira Gandhi, the centre will be based at University of Oxford's Somerville College, where she studied.
It will provide five post graduate scholarships in topics linked to India's development, such as food security and immigration.
The new building is set to open in 2017, with admissions expected by 2014.
The university said it also hoped to establish postdoctoral positions and fellowships at the centre.
The Indian government has contributed about £3m to the project, with £5.5m pledged by the college and university. The rest is expected to come from private donors.
Mrs Gandhi first became prime minister in 1966 and again in 1980, and was praised for her battle against famine in rural areas. She was assassinated on 31 October 1984.
The centre is expected to open in 2017 to mark the centenary anniversary of her birth on 19 November 1917.